About GravityZERO
gravityZERO is an installation that combines video, sound, and robotics. A translucent cube is assembled in the venue, the images are projected like holography, and the multiple speakers are arranged in each direction of the cube's corner.
A mannequin assuming a human being is suspended from the ceiling and floats in the air as if there is no gravity. As each rope is operated by a motor, it can move freely in 3D of space.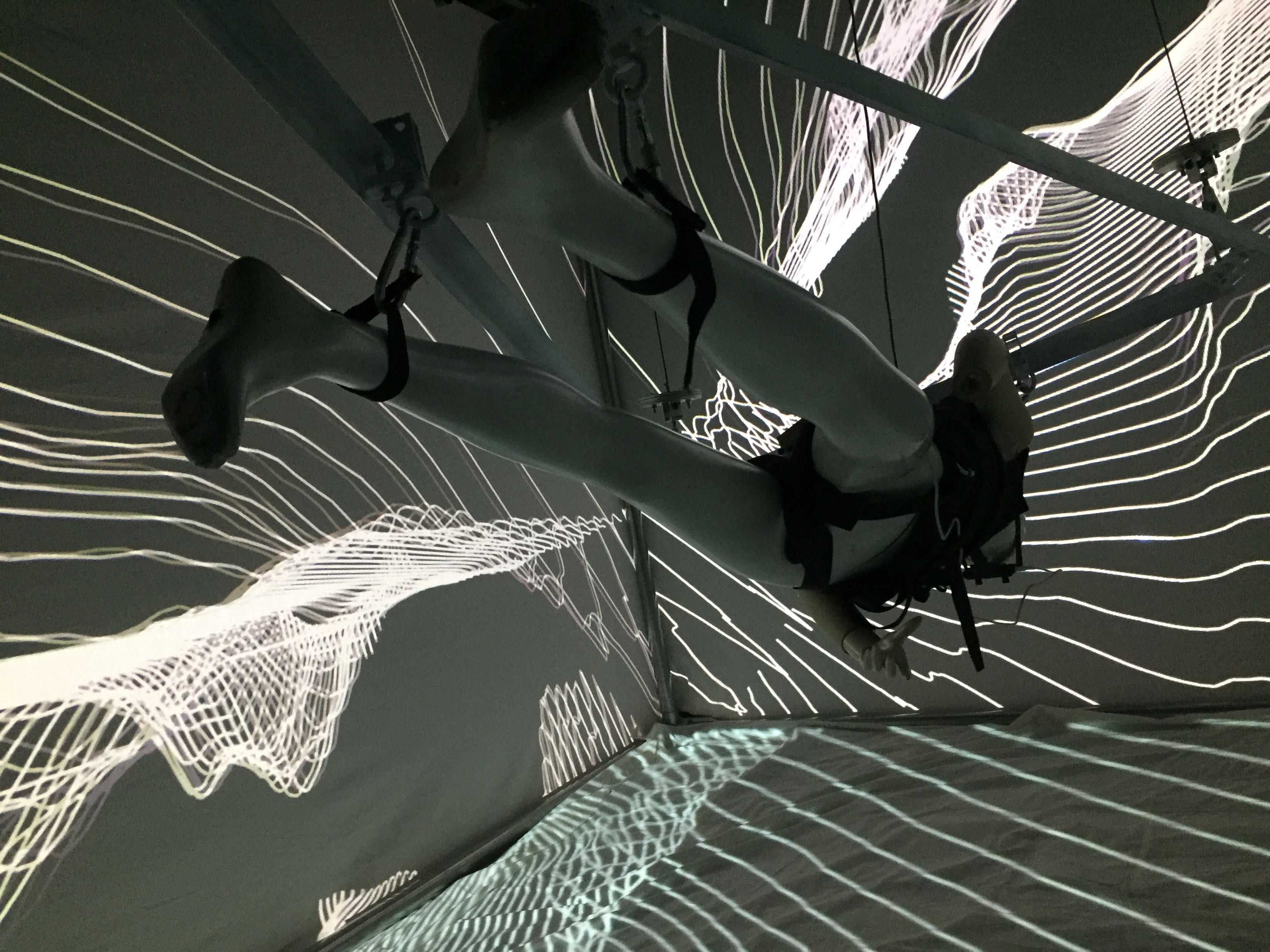 This work is indented to pursue new possibilities of the performance using the interface closely related to the body and the performance of Augmented Reality (and Virtual Reality) and projection mapping. In other words, the audience can experience a space where they are floating in zero gravity state through binaural microphones and cameras attached to the head of the mannequin by wearing a head mounted display.
Biography
Suguru Goto
Concept/Music
Composer and New Media Artist. He has been internationally active and has received the numerous prizes, such as the honor award of digital music & sound art in Ars Electronica, Austria. His work are played in music festivals around the world, such as Resonance/IRCAM, Tanglewood Music Festival, ICC, SONAR, Haus der Kultures der Welt, ISEA, NIME, Venice Biennale etc. He was previously Assistant Professor of Bordeaux Arts University, an invited composer and researcher at IRCAM, and currently Associate Professor at Tokyo University of the Arts.
Satoru Higa
Programmer/Visual artist
Born in 1983. Programmer/Visual artist. Making a wide range of creative activities including installation, stage production, VJing, live performance, VR works, he has been creative with full use of sophisticated programming techniques, such as real-time 3D graphics and computer vision and various projects. He has established a labspace, "backspacetokyo" since 2015.
johnsmith
Harware/Technical Support
Graduated from Tama Art University, Department of Information Design, Media Arts Course Graduated from Graduate School of Institute of Advanced Media Arts and Sciences [IAMAS], Department of Media Expression Exchange studies abroad at Universität der Künste Berlin Exchange studies abroad at Kunstuniversität Linz In addition to do technical representation and installation of stage expressions and installations in Japan and abroad, he has been researching and working media archeology, sound art, performing art, installation etc.
Chihiro Suzuki
Assistant/Programming
He studied cognitive psychology at the Faculty of Letters, Hokkaido University and Nihon University of Art. He is studying at the graduate school of arts. In addition to engaging in electro-acoustic music research, He involved in TV's CM, performing arts, installation, device art etc. Her has been articipating as a programmer for the COI young cooperation at Tokyo University of the Arts.
Sheep
System Artist
Born in 1989. Graduation from Design major, Design Department, graduate school of Tama Art University. While he involves advertisements and developments of commercial facilities with an expression of computer, he is active with a theme, « Inversion of System and Surface
Inquiry
Tel: 050-5525-2742
Fax: 03-5284-1576
Email: gravityzero@mail.com
Sponsorship: Cerebral circulation program, Hoso Bunka Foundation
Cooperation: Tokyo National University of the Arts, Department of Musical Creativity and the Environment